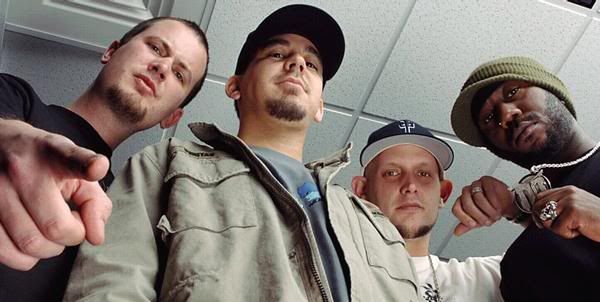 LISTEN TO MIXTAPE 4, LINK ON THE RIGHT.

I originally got to know about this online stuff back when I was about 16...the first time my dad even bothered with the internet. We had it on dial so it proved to be real expensive, in time we got the beautiful broadband. I searched of online stuff for Linkin Park, at the time I was a huge fan, and came up with Linkin Park Community, then called LPC. I developed a huge circle of friends online all into the same type of music and talking about a band which I truely thought highly of!

In time I came across the FM website. Back then it was only this freakish siluette of a man...with white eyes....holding the FM logo. With some red paint splashed behind him. Yes...I thought it was frigging weird and had no idea how to enter the site! Several days later, I scrolled down the page, to the right and there was a link saying "Click here". BOOM I was a part of the FMMB and got started on all the buzz of the new hip hop project Mike Shinoda from LP was due to start.

I got to talk to the upcoming artists who were due to feature in the project on the site....Holly Brook, Lupe Fiasco, Styles of Beyond and many more. The site was improved and as you entered there was no longer that freakish guy with white eyes but the FM logo, some eery music behind and a digital clock doing the countdown. The countdown was to the release of the album, which was 22nd November 2005. And whilst all this was going on, Remember The Name (the first single to be released) was leaked! Followed by Petrified....no one knew who exactly leaked these songs, but through it there was a mixtape created by DJ Cheapshot for promotional use.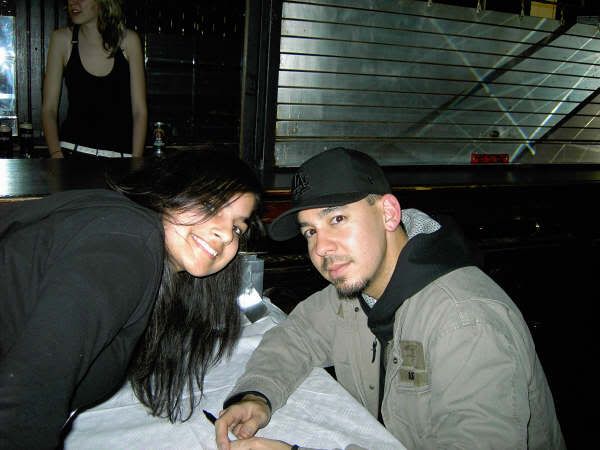 Another, more serious mixtape was created by DJ Green Lantern for the official promotion of FM. From this point on videos for singles, new artists becoming faved artists and the FM Street Team was causing a hype. I went to see FM live THIS TIME 4 YEARS AGO! Monday 14th November 2005, at Mean Fiddler London, when Believe Me was released in the UK and the new album was due to come out. I had to ask someone to sign me up for FMMilitia so I could go to the M&G and to get me the ticket for the show. I had to even sneak out to London coz of what my parents were like at the time and had coursework due in that day. All sounds stupid now, but I decided to go extra lengths to see the guys! I met Mike Shinoda and the SOB crew. I met LP/FM and other music lovers through it all. Piccy below of the t-shirt I painted couple of days before going....and signed at M&G....
Man, we even got to hear great links of when the band were pissed and did a ridiculous rap ending with DJ Cheapshot saying he was a "grizzly bear". HA! Since that FM has died down, LP released a new album called Minutes to Midnight and Mike Shinoda has his own site, featuring his artwork and shows, various bits of news, music and videos.

So....after all those jazzy links ON THE RIGHT and a big, useless story of how I got to this lovely lovely mixtape....here is the new site: http://www.mikeshinoda.com/, please listen to Mixtape 4 by Mike Shinoda (LINKS ON THE RIGHT) featuring a whole range of tracks that I am so in love with right now. This mixtape pretty much sums up what I want to achieve with this blog. I have always loved music, but over the many years since FM I realise I need to publish them somewhere. As silly as it sounds, LP and Mike Shinoda have been a huge influence (as I know most people would say who helped promote FM back then), to accept what I love about life: art, music and people! There is so much I want to share musically, I don't expect everyone to like the music as we have our own opinions, but there is no harm in listening! For now, this mixtape hopefully allows people to appreciate old and new music just as much as I do. So go have a listen....
MS Mixtape Four The Doors "Five To One" The Beatles "While My Guitar Gently Weeps" Neil Young "My My, Hey Hey" Big Daddy Kane "Set It Off" Method Man "Release Yo Delf" The Kickdrums "Tell me Stories" Ol Dirty Bastard "Shimmy Shimmy Ya" Does It Offend You, Yeah? "Dawn Of The Dead" Metric "Help I'm Alive" M.C. Hammer "U Can't Touch This" Silversun Pickups "Surrounded (Or Spiraling)" Portishead "Mourning Air" Autolux "Audience No. 2" Bjork "Who Is It"
Enjoy! :)